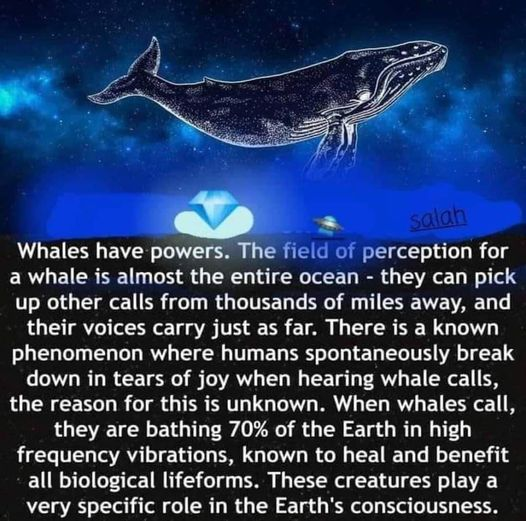 3-9-21 Dolphins and Whales
Tuesday 6:22 am Protection Song, Whale song, Dolphin and Whale song
Dolphins and Whales, the Star people of the ocean, come to you today to ask you to remember. Remember our Starry origins like yours. Remember we have spent our incarnations on earth, on land and in the ocean. There were times past when we could not live in the ocean due to cold or conditions that did not allow. We were the wolves- we were four leggeds and like you have climbed the tree of life toward ascension. We hold the codes, we carry the frequency to assist Dear Earth Mother to hold the light.
There have been many that have come to you through the years to share knowledge and bring messages and you know they always speak of LOVE. Love is the highest frequency it is what holds it all together. Don't worry about other Souls, they will find their way- you cannot carry the burden of everyone- sometimes your work and the work of other Star seeds is simply to hold the love.
What a beautiful lesson love is. It comes in so many forms and as you grow you learn more and more about it. You come in after spending time in your mother's womb. You experience all that she is experiencing and you feel the love, the connection she has to the world . You learn about love from her but you also come in from the Spirit world holding the highest frequency of love to assist her and to hold the love while you gestate.
Birth is that time when you start to experience the world around you. It is a shock to leave the womb, that safe space. Suddenly you are naked and vulnerable and out in the open. You are never alone, always surrounded by your Spirit Guides and Angels and Soul Family. The communication is pure and telepathic because you know no other. There can be some difficulty in communication if those around you do not remember telepathy but they will do their best to take care of you and your needs.
As you grow you experience the energy in the home, the energy of other family members and those in the world around you. Many of you chose to come into families that had dysfunction, anger, negativity, imbalances, because you wanted the challenge to see if you could rise above the low frequency and find your way into the higher dimensions. This was a time of awakening for many. You had gifts and psychic abilities but you did not have a support system in your family to understand them. You often spent time alone, in nature to recharge and connect to the energies you could feel. You were not lonely, just more comfortable in the quiet- seeking peace.
Life lessons were often difficult or challenging. As you moved through the lessons you agreed to experience on this Earth plane, you knew there was something bigger, a reason you were here but it seemed to allude you. You started to seek out others who could understand your uniqueness, your differences and you looked for love- felt love from others but it was often buried in a personality that was injured or in need of healing. So many ways to learn and so many opportunities but you did not understand that you could change your direction- your life lessons- that you have Free Will.
The Free Will lesson is so important but few even know it exists. At some point in your life, usually after the death of a close family member or a passage in time- graduation from High School or college or turning a year older, you start to question your existence. You seek a higher meaning, a reason to be alive and that is when the guidance comes in. It could be an Elder, a wise friend, a teacher, a life experience, for some, the use of a mind altering substance, that awakens that curiosity. Why are we here? What are we here to do? and the journey within begins. It does not matter what the experience is, but that there are opportunities to expand your consciousness. You start to meet people of like mind, Soul Family, people to connect with who feel the same sense of adventure and long to understand more about life and life purpose.
That is when synchronicity happens, the dreams, songs, the places you go when you travel that light that spark within and send you down the rabbit holes. At first you don't understand why but then you start to see more and more as the people and experiences continue. You learn the lessons of discernment as you begin to learn from others. You learn that all is not true. You felt in your heart and you learned lessons because you believed a lie or were sent in a direction that did not feel right. Discernment is an important lesson. It teaches you the distinction between mind and heart. The mind and the heart must work together in harmony. You hear, you read, you see a message or information from another and you then must filter that information through your heart. The heart reads the information and can help you find truth or may guide you to let it go. When the heart and mind work together to discern, you will be guided to truth. Please know there are always guides, helpers in many forms walking with you all your days to assist you with your life lessons. They steer you on your path with signs and synchronicity, songs etc. When you are aware of them, you will see how much support there is.
The challenge in life, especially the 3D Earth existence, is to continue to seek the truth. To uncover who you are and why you are here- to remember. The veil of forgetfulness is perhaps the greatest challenge here. As you pass from the world of Spirit into this lower density all is forgotten. As we said you will have those messages from Guides and Spirit Helpers, those guideposts, those ah hah moments, moments of clarity to help you understand. Dreams, Visions, but it is up to you to remember who you are and why you are here. The Ultimate challenge when you have total amnesia.
The Earth walk is not a very easy one, especially when you forget all of your past lives and Soul experiences from before. You now walk in a much lower density, sleep your way through life and have experiences that one day will awaken you to the truth. This is such a time, so many are trying to help awaken the sleeping Souls. They speak of things that are so unbelievable and often cause fear.
The Star seeds, the awakened ones must remember to speak gently, to show by example, to share their experiences and personal truth in a way to not cause fear. If there is fear, the person will shut down. We need to show by example, show a potential. It is up to each individual to decide, to discern the truth from the words we speak. The challenge in discernment is that many of the books, movies, media is truth mixed with lies. There are many who want to control the narrative, control the information that is allowed to be shared. They want the truth to be their truth, they want to keep Earth human in the dark. We must all seek the truth within.
The awakened ones, the ones who have been awake for a long time, perhaps an Elder, can assist the newly awakened ones and the ones who are trying to awaken. There is so much information out there, presented in so many different ways, so they can find the truth in a way that resonates with them. When you look closely the information is given in a way that makes sense to many. The different ways could be in the language it is presented in, a religious belief system, Nature, philosophy, symbols, pictures, in every way that it can be expressed.
Look back at your life, your joys, your sadness, your life experiences. See where the people , the books, the movies, helped you to awaken your curiosity. Perhaps a parent or a loved one passed and that made you question life and life purpose. Perhaps that is happening now and you are just starting to learn new truths and find information from others that is starting to make sense.
Be gentle with others, allow them time to digest all of the new information. Teach them about discernment. Be careful not to overload or overwhelm them. Remember your awakening experiences and how difficult it was at times to understand a new reality and to learn truth from fiction.
We are all energetic.,we all came from Source, Creator. Some of us hold a higher frequency. Hold it like an open door to show others a potential. We are not here to force others to see what they cannot or are not ready to see. Some may not choose to awaken, that is their choice, their Free Will. We must honor Free Will, honor the Soul within. There will be many who choose to awaken and those Souls are the ones we can share experiences and information with, they understand.
We must honor the individual, respect their choices, even if we think they need to go in another direction. It is not up to us to choose for them. We must allow them to learn on their own, in the way that works for them. We need to be patient and know the ones that we can support, assist, share with will find us. In the meantime, we learn, grow, experience, create, continue our own Soul lessons.
What an amazing time on Earth. So much potential and so much happening on so many levels, in so many dimensions. Seek the truth within, be aware of the lessons around you. Work on your telepathy, your gifts and strengths, your connection to the Earth and all living beings. The quiet observation can teach you more now than all the life lessons combined. Be still, be open to learn, and be gentle with others. Ask your Guidance to show you in a way you can understand, with synchronicity. Ask them to help you find others of like mind. We are here to assist as well.
We are the code talkers, the song makers, we hold the memory of Earth and the Stars. We carry the knowledge of the ages. We sing, we play, we send love to you on this day and every day. We wait patiently for you to hear us and communicate with us. Sing our songs, connect heart to heart and you too will hear us. Come sing with us, sing the codes of Creation. We are all here now to bring in a new time, a New Earth, the return of LOVE to Planet Earth. Rebirth, Renewal.